October is nearly over, so it's about time I posted something.
My daughter needed an urgent card from my stock of stitched cards and she chose one of my Hardanger Cards for a 40th Wedding Anniversary. Fortunately I had some stickers I could apply, to make it a bit more special.
I'm still stitching some more Christmas tree decorations by The Prairie Schooler, but not ready to show yet.
-ooOoo-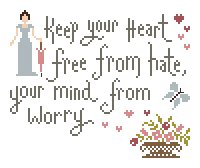 -ooOoo-
Plum Street Samplers is also having a Sunday Mystery SAL. It started at the end of September, but you could still stitch it. Here are all the links so far:-
Here's what it looks like so far. (Please note that this is from Plum Street Samplers and not mine.)
Well, that's all for now, so until Next time, Happy Stitching Everyone.